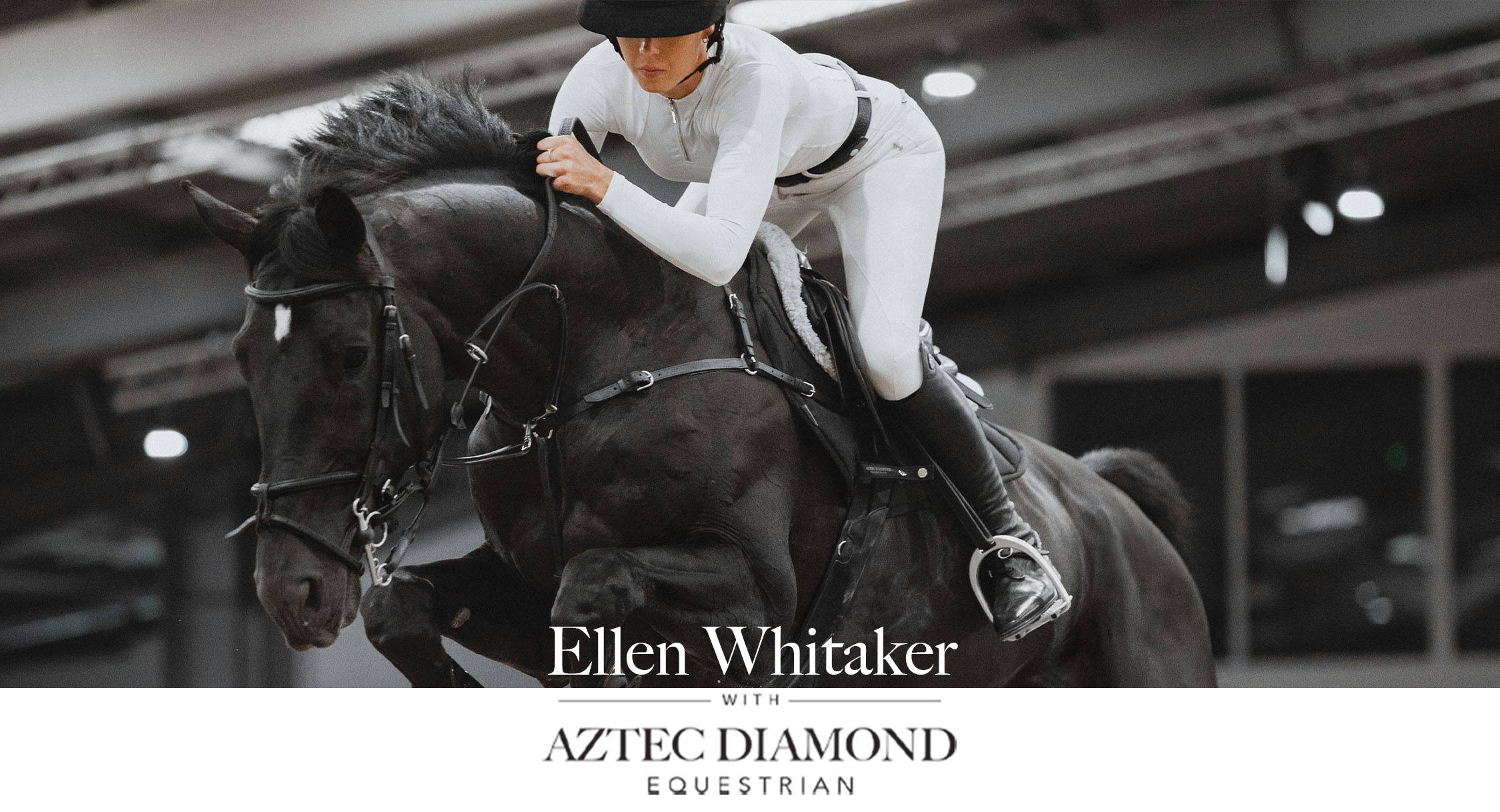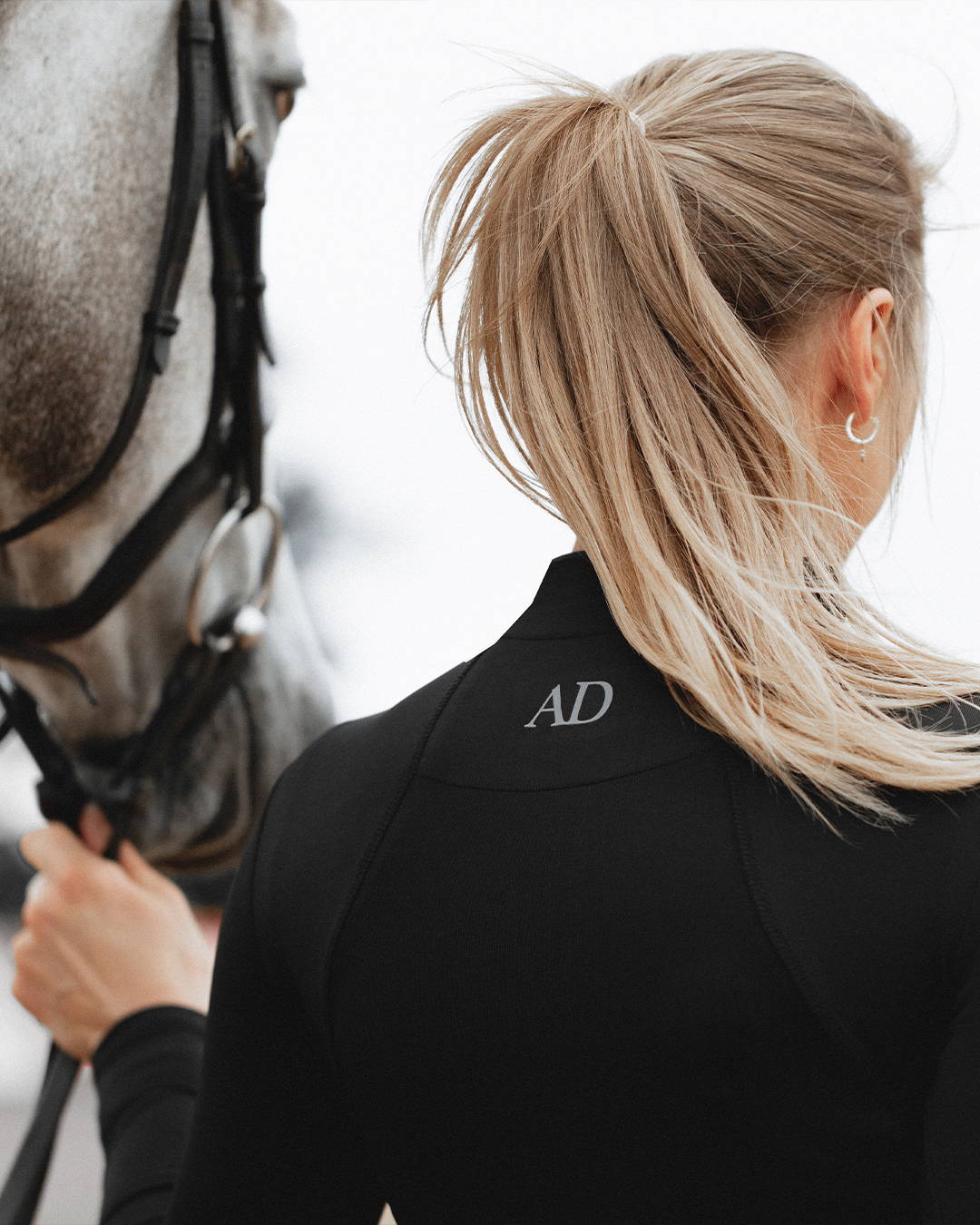 "I LOVE Aztec Diamond clothing and I am incredibly lucky to have been asked to work with them. The high quality and MINIMAL styling have made them one of my wardrobe essentials both on and off the horse! They share my love for the sport and have invested in me so it is my mission to achieve top end results and represent the brand as best I can. I feel ready for the new challenge and am focused on succeeding at the highest level"


Aztec Diamond Equestrian are proud to sponsor a leading name in the world of equestrianism - International show jumper Ellen Whitaker - we couldn't think of anyone who better embodies our brand ethos & attitude. Our partnership is one bonded by hard work, determination & a contemporary outlook of a love forever rooted in the equestrian world.

A member of the world-famous Whitaker dynasty - Ellen started competing at the age of 5 and over the years has progressed through the ranks of her sport, gaining a huge following and becoming a household name in the Showjumping world. Ellen has some incredible achievements to her name including successes in Grand, Nations Cups, Derby's and Puissance's.
Ellen champions a minimal, elegant approach and style, which makes her fit perfectly into the Aztec Diamond Team. Not only will Ellen be Representing AD across the globe whilst competing this year, she will also be helping our design team with future designs and product development.

NAME: Ellen Whitaker
DISCIPLINE: Showjumping
HOMETOWN: Huddersfield, Yorkshire
WORLD FEI RANKING: 236
HORSES: Seven
CHILDREN: Two- aged 4 and 6.
MOTTO: "Winners are not people that never fail, they are people that never quit"
SPORTING HEROS: Roger Fedderer, Tyson Fury, Rafa Nadal
Jumping 3 Clears at the European Championships- she won bronze, Securing team GB a place at the 2008 Bejing Olympics.
Winning Silver in the European Junior Champiships- aged 17.
BSJA Rider of the Year 2005
BSJA Members Personality of the Year. 2005
U21 Rider of the Year 2006
Winning the Treble at HOYS 2009 (Puissance, Speed Horse and Show Jumper of the Year)
Winning the Hickstead Speed Derby Twice
Winning the British Open Showjumping Championships 2010.
Winning CSIO5* Longines international Arena at Hickstead 2019.
Longlisted for Olympics 2020 after a double Clear at Gijon Nations Cup.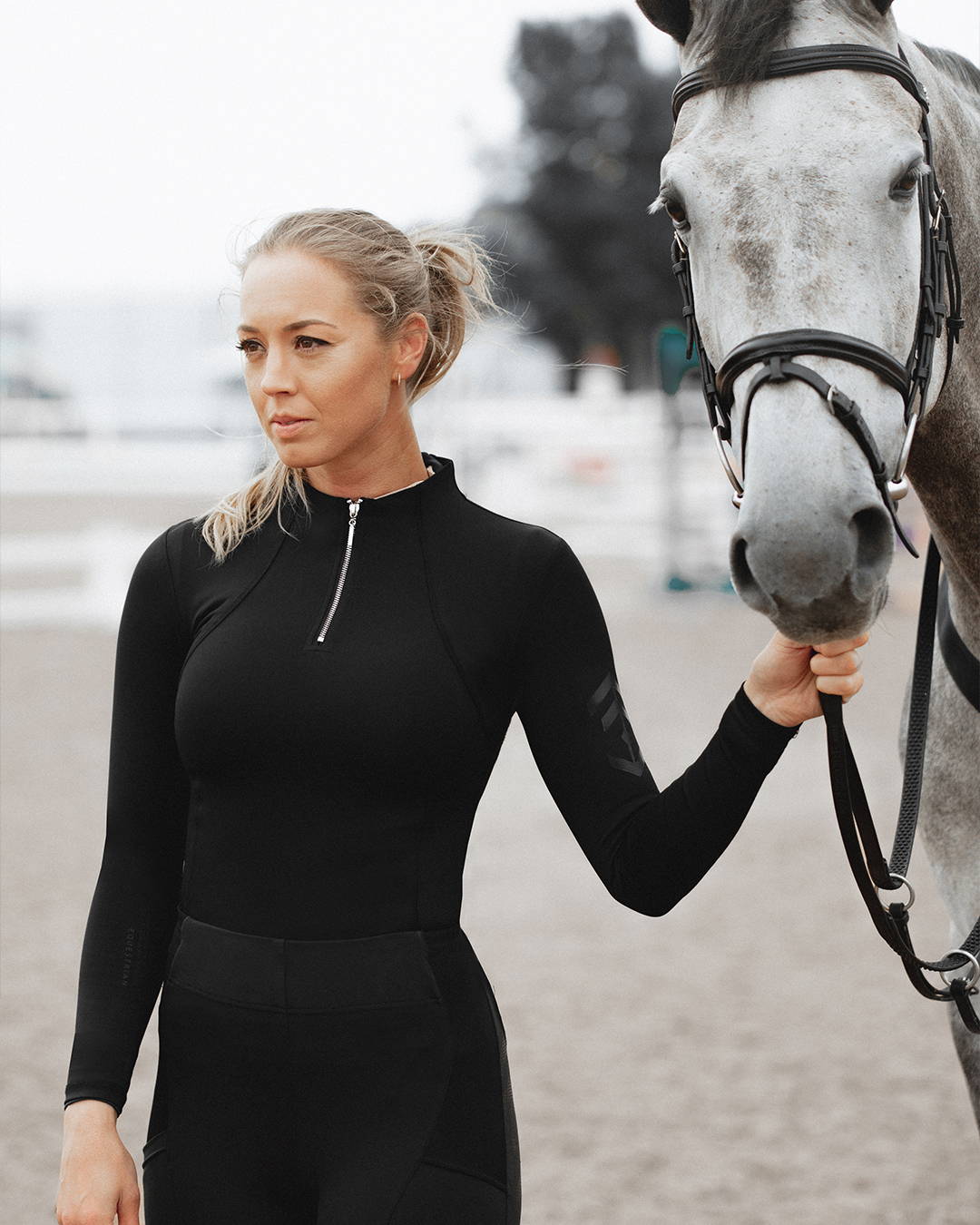 Ellen is a Yorkshire girl through and through, although she was born in Huddersfield, her parents moved to the country town of Silkstone, South Yorkshire, where she was raised. As for when her equestrian story began, Ellen can't even remember, as she was first put on to horseback before she could even walk! This comes as no surprise, as Ellen was born into one of the most famous show jumping families in the world- the Whitakers. Lucky enough to have lived close to her Uncle John's stables, she grew up riding and competing alongside her cousins from an exceptionally young age.
Ellen's competition journey started at just five years old, where she was entered into her first affiliated show jumping class. It wasn't all plain sailing from the start however, as Ellen got eliminated before completing the course! Thankfully this didn't stop her, and actually turned out to be the very beginning of her incredible show jumping career. By the age of just eight Ellen had qualified and competed at HOYS.Her big break, however, came in her teenage years, where she slowly started to become a household name and continued the glittering family legacy. By this point Ellen had made the decision that she wanted to pursue show jumping as her career, and from then onwards dedicated her life to the sport. Ellen has trained tirelessly and continuously, and this was reflected in how rapidly she was able to climb the global rankings.
But why is Ellen adored by aspiring equestrians worldwide? It's her fierce and fearless approach to the sport that set her apart from the rest. Ellen dominated and flew through Derbys, Nation Cups and Puissance's at Grand Prix level. In 2007, at the age of just 21, Ellen represented Great Britain in the European Championships on Locarno 62 and assisted Team GB in qualifying for the Olympics after jumping triple clear and securing bronze. Ellen classes this as one of her biggest achievements to date. However, Ellen was unable to compete for Team GB in the 2008 Olympics as Locarno 62 was unfortunately lame and eventually went on to retire. Locarno 62 now enjoys the life of being used as a stud horse!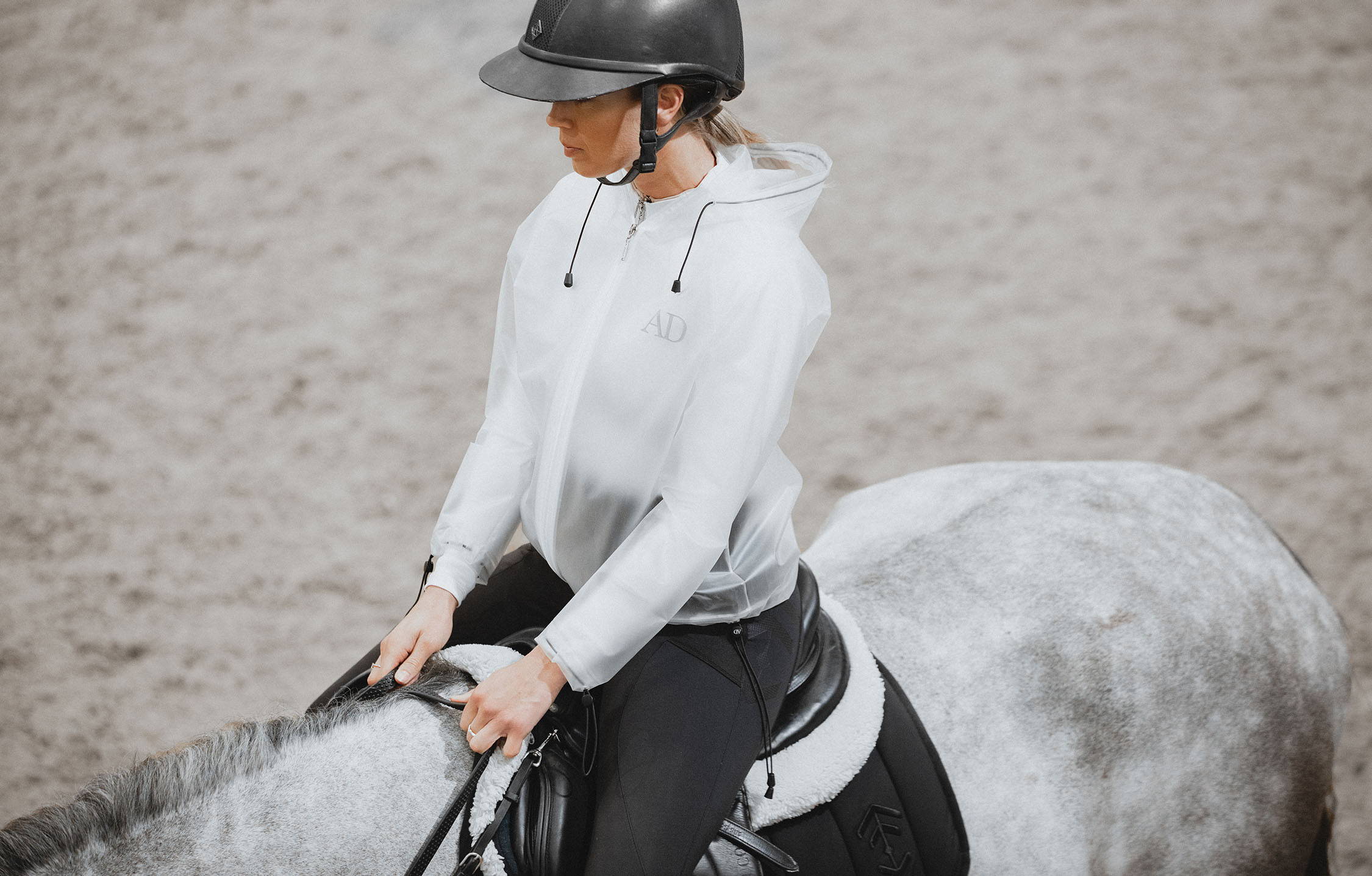 Alongside her long list of show jumping awards and titles, Ellen has also received a vast amount of honours and awards throughout her career so far, including BSJA 'Rider of the Year' and BSJA 'Members Personality of the Year'

In 2014 and 2016, Ellen took a step back from her show jumping career to have two beautiful children, Harry and Frankie. After taking time adjusting to life as a mother and learning how to best balance her home and work life, Ellen wasted no time getting back into the sport, and trained relentlessly - which resulted in the second wave of her show jumping career taking off at full speed. By 2018, Ellen had once again secured her spot on Team GB.
Just last year, Ellen continued Locarno 62's legacy, riding his offspring Diola at Hickstead, in the CSI05* Longines International Arena. Ellen demonstrated just how legendary the Whitaker name is, claiming the top spot up against some of the biggest names in the sport such as Marcus Ehning, David Will and Michael Jung. This was a milestone moment for Ellen, coming full circle and taking first place on the offspring of the very horse that took her to second place at her first ever Hickstead Derby fifteen years prior.
Regardless of her past achievements, Ellen shows no signs of slowing down any time soon. She is determined to push herself even further, and secure more titles under her belt. Now partnered with Aztec Diamond Equestrian, Ellen is set to make this season a one to remember and intends to train as hard as she possibly can day in day out in order to give herself and her horses the greatest chance of success.
.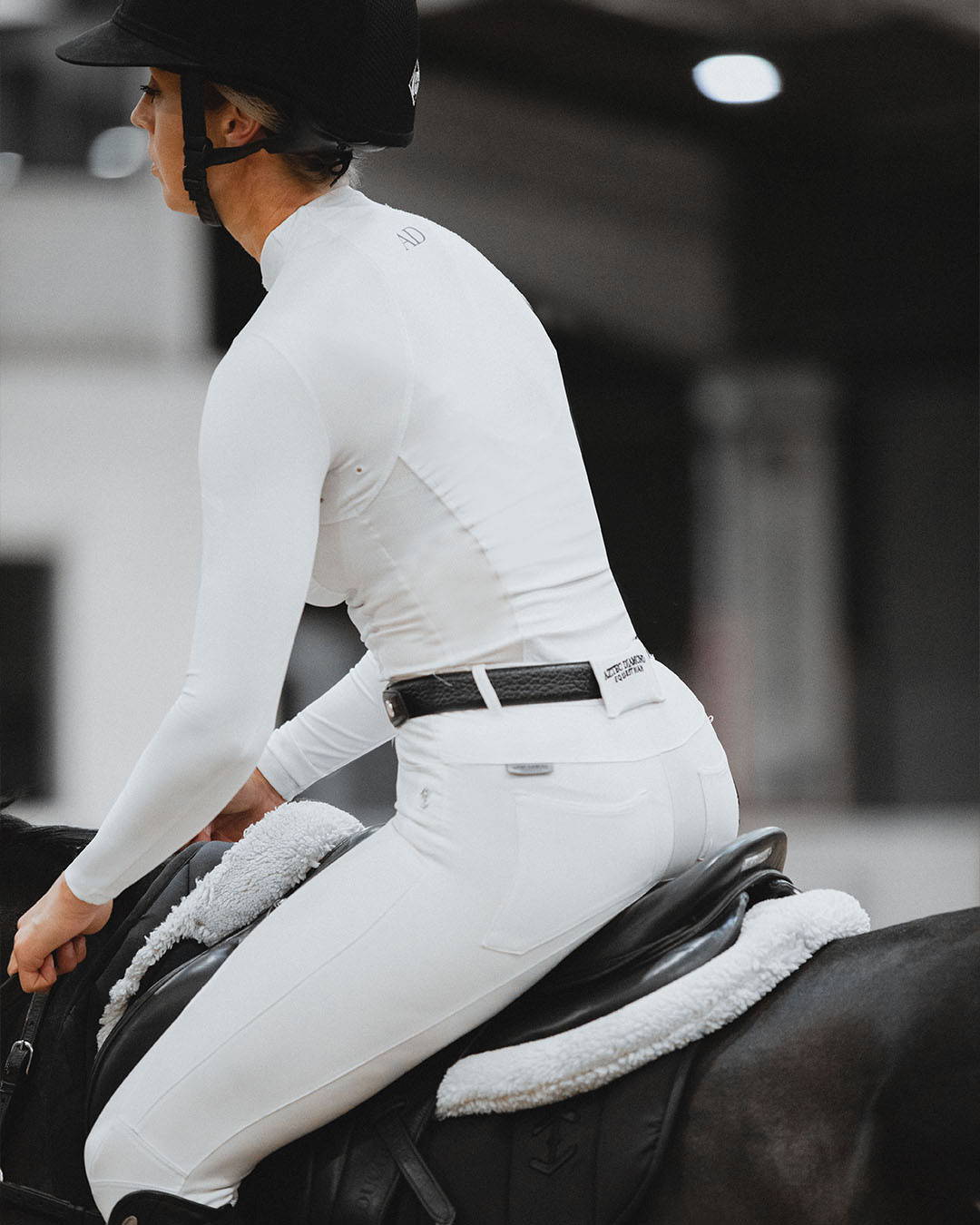 A R E N A U k w i n s t o n
' W I N S T O N '
j a c k v ' a n t k a t t e n h e y e
' J A C K '
H Q U A I N T O N X T R A F A C T O R
' A N G E L I N A '
j s u p e r s t a r
' J A Y '
E M A R A G I G U E L L E R I E
' G I G I '
S h e a r w a t e r l c a t e r i n a
' C I N D Y '
h u l a h u p e j R
' C A S H '

Ellen shares her favourite pieces for Competing, training, work out's and day to day life. Always opting for an elegant, classical and sleek syle, both in and out of the ring. Take a look at the outfits hand picked by one of the world's most inspiring Female riders.
IF YOU WANT TO LEAD, PREPARE TO BE FOLLOWED