One of our favourite bloggers, Susan Friedland (@saddleseekshorse on instagram), offered to trial out a handful of AD products in exchange for a full and honest review and we've got the lowdown here to share with you! check out www.saddleseekshorse.com for the best daily equestrian lifestyle content.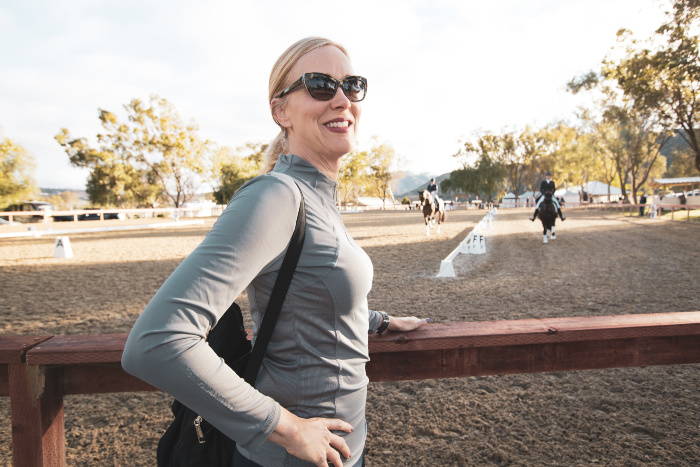 Clean lines, classic colours, modern construction and founded by a horse girl–if you are looking to spice up your equestrian wardrobe, you NEED to check out Aztec Diamond Equestrian right now! This UK apparel brand for horse and rider is smokin' hot and even better, created by Jordan McCabe, a 24-year old equestrian who launched the line out of a desire to own fashionable riding clothes at "Main Street" prices.
Jordan created Aztec Diamond Equestrian with no previous business experience at the age of 17 and was just selected by Forbes for their 30 Under 30–a list of innovative entrepreneurs! The company is named after Jordan's late horse, a Thoroughbred show jumper. That's so cool! (As you probably know, Thoroughbreds are my favourite!)
When I opened the package from Aztec Diamond Equestrian, it was like Christmas morning! I was at a horsey friend's house and I kept going into her office to try on the different pieces and each time I came back into the kitchen to show off, she approved, "That's really cute!"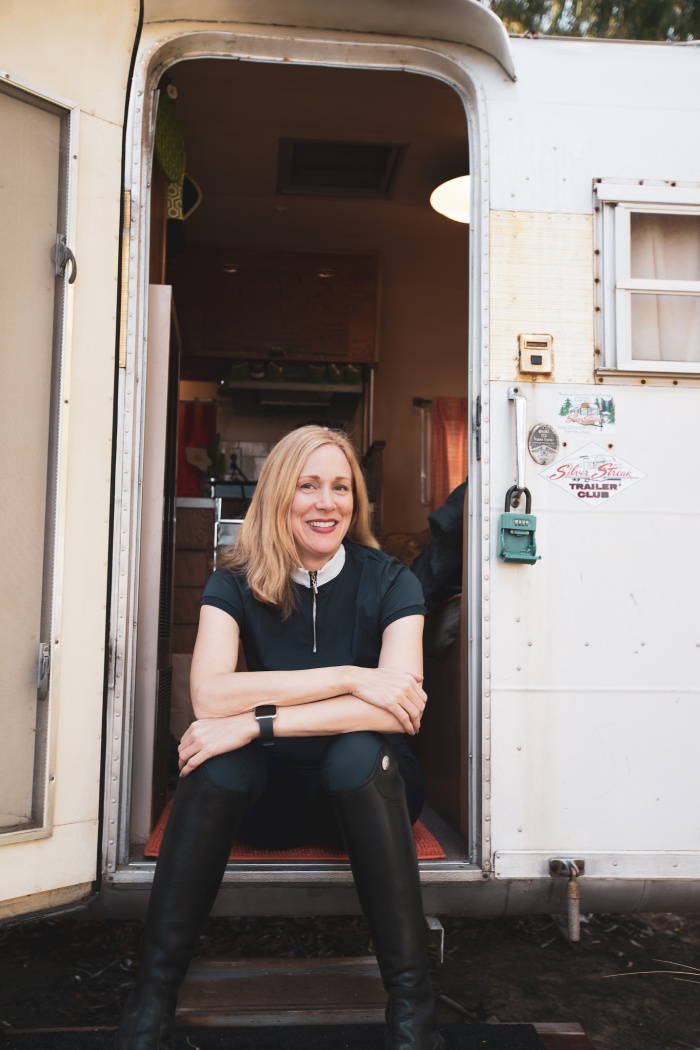 LEGGINGS, BASE LAYERS & LUXE SHIRTS
The fit of Aztec Diamond riding leggings is exceptional and totally figure-flattering! When I first held up the navy leggings, I was dubious. They looked tinier than my waist! I normally order a large in riding leggings, but when I consulted with an AD representative, she suggested I get a medium. I was delighted to find out they fit me perfectly and sucked in my middle section in all the right places. Really, they are so flattering, easy to put on, hug my curves and look amazing.
The AD riding leggings have a well-constructed pocket on the right side large enough for my Samsung, or perfect for carrying a few cookies (for you or your horse). The interior of the pockets have strips of silicone grip material to keep contents inside. The riding leggings material is thick enough to provide coverage, but is breathable. I also like how the branding is evident (cute logo), but it is navy on navy, so it is subtle and refined.
The Aztec Diamond leggings elastic waistband reinforcement is about three-inches from top to bottom and is sewn into the front and back of the leggings, for a snug, secure silhouette. The side area by your hips is a different type of ribbed material, that travels down to about mid-thigh. It's worth pointing out here that these AD leggings do not sag in the crotch–I've had other riding leggings that require continual pulling up of the waistline so I don't feel like I'm wearing droopy diapers. Trust me, the details on construction of these leggings have been carefully thought-out to ensure maximum attractiveness!
The tops are equally beautifully fitting. The navy short sleeved Luxe Show Shirt with a white collar is so charming and classic I felt a little Audrey Hepburn-esque in it. I love both the shade of grey and the feel of the long-sleeved base layer. It pairs well not just with AD leggings or breeches, but it looked wonderful with my trusty rust breeches I wore during a recent lesson.
The base layer and show shirts will be great not only for travel (because no wrinkles!), but mix in flawlessly with my existing equestrian wardrobe. I haven't tried it yet, but my guess is the tops will look adorable with a pair of skinny jeans too.
Like the riding leggings, the base layer and show shirt lines have a slimming effect and the fit makes you look busty–what's not to love about that?
"You don't have to be a willowy supermodel to look fantastic in these leggings!"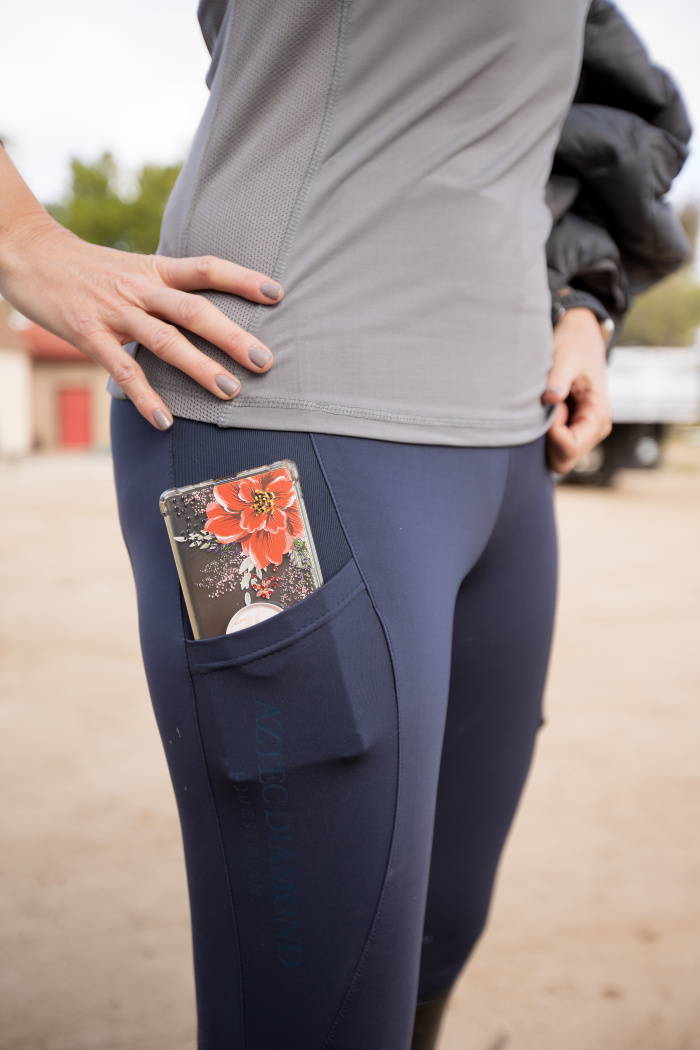 The fashion doesn't stop in with you in the saddle or on the street. Aztec Diamond has a line of horse products too, from fly bonnets to saddle pads to polo wraps, AD has got your horse covered, literally.
The AD saddle pad is both beautiful and functional. The underside is mesh and designed to wick sweat, while the top side is heavy duty fabric. The Aztec Diamond saddle pad possesses a contoured shape for high withers (perfect for my Thoroughbred). There is a girth protection panel sewn in, plus a really unique and smart feature: both the girth and billet straps have tiny snaps for closure, not Velcro (no more Velcro clogged with horse hair).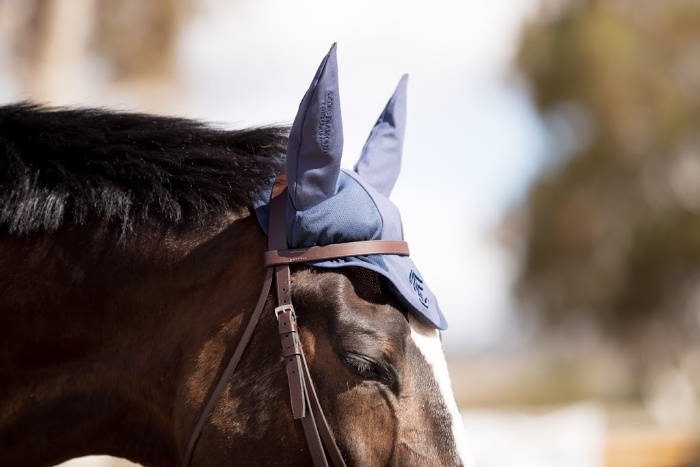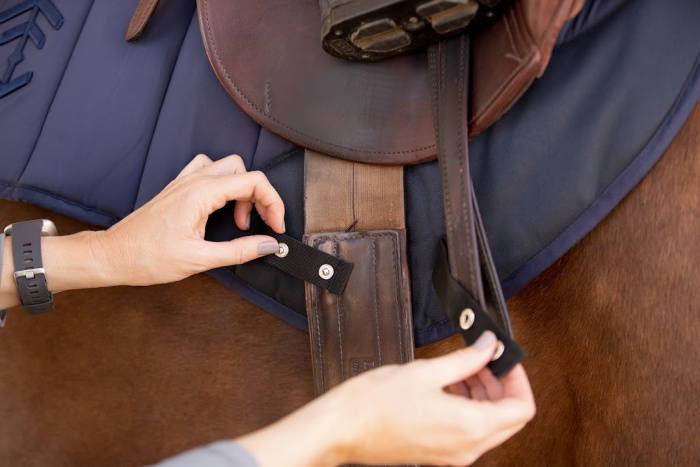 One thing to note for the fit of the Aztec Diamond Equestrian base layers–they are designed to fit like a second skin, however if you are like myself and prefer a looser fit, I would recommend going one size up. The AD sleeves on the long sleeve base layer run a bit shorter than those of shirts I have from other brands of horse riding clothes. I don't think it's a big deal.
The size range for leggings to base layers and show shirts is from XS to XL.At the time of this writing, the Aztec Diamond Equestrian base layer, show shirt and riding leggings are all priced at £40 (£40 is a little under $50). To me, that is a bargain as most of the riding leggings I am aware of are over $100 and similarly styled shirts $70 on up. If you have a pony rider in your life, AD has a line of affordable kids horse riding clothes too. Many of the colors are available in the adult line, so you can twin with your mini me!I have washed the leggings and shirts (cold water) and simply air dried them. They are so easy to care for I think I need to take them on my next equestrian getaway (can't wait to get back to ride in CA wine country)!
Overall, I am super impressed with the style and substance of the Aztec Diamond Equestrian line. It exudes fashion consciousness, and the details show it is designed by a woman who is serious about riding. And when you check the exchange rate of US dollars to the British pound, you will know for sure what a good value the apparel and riding gear are.