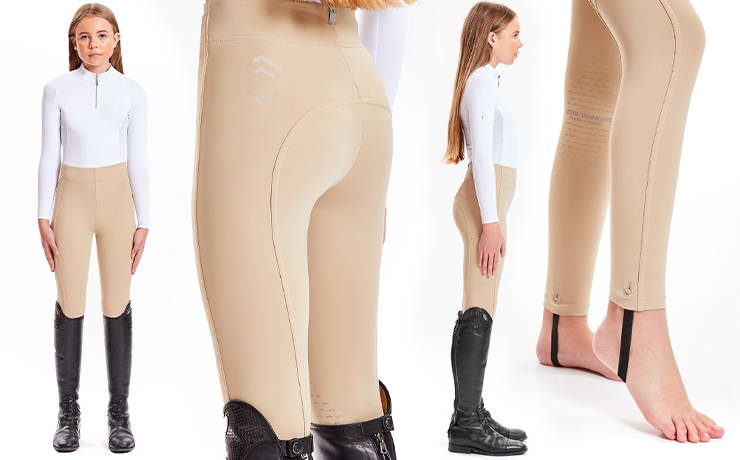 The newest addition to our ever-expanding Young Riders collection, our Beige Leggings are the perfect addition to elevate every mini equestrians wardrobe.
We wanted to ensure that Young Riders would be able to compete in these Riding Leggings, as many younger equestrians prefer the comfort and feel of wearing Riding Leggings over Breeches. Therefore we designed these leggings to be a specific shade and style, and were delighted when Pony Club UK approved them as an official piece that can be worn at their events.
Created in a double-thick, four-way stretch fabric, these PC leggings make sure our little riders are as comfortable as possible. They feature a flat, wide, high waistband, gripping system and the cleverly designed asymmetric panel curves around the kneecap giving the knees total freedom whilst in the saddle. These leggings also feature a secure, removable elastic boot strap, meaning no Jodhpur clips required!
Stylist Tip: For competitions, we love pairing these leggings with our YR White Base Layers for a fresh and modern look. For lessons and laid back days, pair with our White or Pink YR T Shirts and add our Black YR Full Zip Hoodie for an extra layer of warmth.
There has been incredible customer feedback from our Pony Club Approved Leggings, and we are continuing to strive for excellence and innovation when creating pieces for our Young Riders collection so that mini equestrians can look as good as they feel.
Make sure to sign up to our newsletter to be the first to know about all upcoming Young Riders launches and events, if you're looking for our PC riding leggings you can find them here