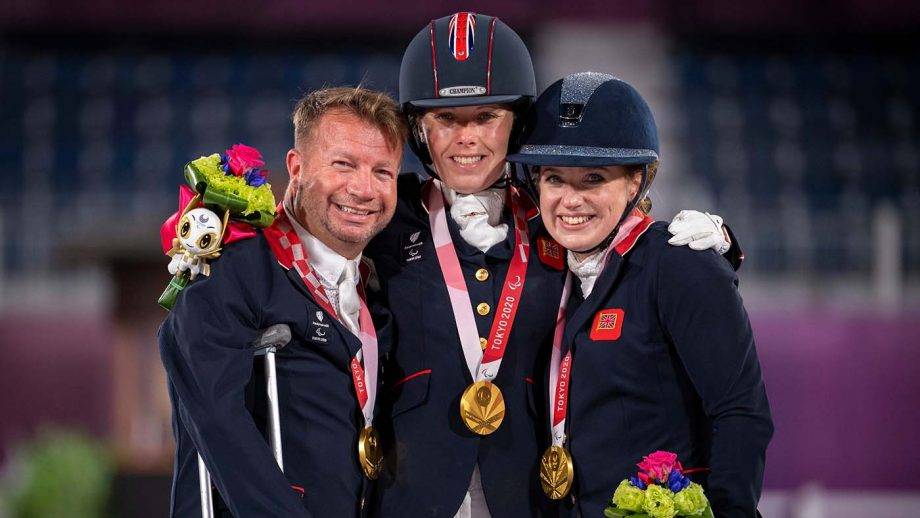 At the Paralympic Games, all athletes compete in three dressage tests: a team test, an individual championship test and a freestyle test (where athletes choose their own routine and set it to their own choice of music).
The results of the team and individual championship tests are added together to arrive at the overall team score, with the best three scores (from a team of four) counting. Individual medals are also awarded on the merit of both the individual championship test and the freestyle test. All riders, whether competing in a team or not, may ride in the team test.
Classification
Athletes are classified according to their functional ability when mounted across five grades (Ia, Ib, II, III and IV). The grading determines the complexity of the movements riders perform with their horses during their tests, ensuring that the tests are judged on the skill of the rider, regardless of their impairment. Riders may use permitted assistive devices (called compensating aids) such as dressage whips, connecting rein bars, looped reins, and the like. Visually impaired riders are permitted to use 'callers' to help them navigate around the arena.
Grade Ia riders are usually wheelchair users with impairment of all four limbs. They may be able to walk, but this is usually with an unsteady gait due to difficulties with balance and trunk stability.
Grade Ib riders are similar to Grade Ia in that they are mainly wheelchair users with poor trunk balance and impairment of function in all four limbs, or no trunk balance and good upper limb function or moderate trunk balance with severe impairment of all four limbs.
**Grade II **riders are often wheelchair users. Riders in this grade can have severe impairment involving the trunk but have good or mild upper limb function, or can have severe arm impairment and slight leg impairment, or can have severe degree of impairment down one side.
**Grade III **riders are usually able to walk without support but may require a wheelchair for longer distances. Riders can have moderate unilateral impairment, moderate impairment of all four limbs, or severe arm impairment. Blind riders (B1 total loss of eye sight) compete in this category but must wear blacked-out glasses or a blindfold.
Grade IV riders have an impairment in one of two limbs or some visual impairment (partial loss of eye sight) at B2 level.
Riders with just a hearing impairment or who have a visual impairment at B3 or B4 level are not eligible to compete at a Paralympic Games in para-equestrian dressage. Riders with recovering or deteriorating conditions such as MS are eligible but must have been reclassified within six months of a World Championships or Paralympic Games to ensure their classification is correct.
Specialised equipment including prostheses is only allowed where it has been specifically approved and is written on the master list.
For more information please follow the official Equestrian Paralympics Page.
Three Medals for Lee Pearson
Team GB's Lee Pearson secured his place as champion of the Paralympics dressage at the 2021 Tokyo Games when he completed a trio of gold medals by taking top spot in the grade II freestyle. Lee's total of Paralympic gold medals won across team and individual competitions now stands at an incredible 14.
Lee rode bay gelding Breezer, who put in a test that was notably for its brilliant lift and cadence in the trot and scored 82.447%. After a frustrating test at Hartpury where Lee had to retire when Breezer became upset, this result was better than anything he could have wished for and cemented their phenomenal relationship.
He explained: "Deep down, I thought we'd perhaps be leaving the arena retired, but then a little bit deeper down, when you dig really deep, I just thought he has brilliant power, he has brilliant paces. And if I don't muck up then I thought he had a chance of a gold.
"But that was underneath believing that we may have to retire tonight, and speaking to my team and saying, 'If I do retire tonight, I still love him and he still is amazing'. That's the horseman in me, it still overrides the desire to win a gold medal, I was still really proud of him. But I'm a little bit more proud of him now he's won a gold medal and helped me win a gold medal."
Lee has won medals at every Paralympics dating all the way back to 2000 and said this was one of the least likely honours: "Breezer can't help being sensitive, I can't help being disabled, but we've done as much as we possibly can to get him in different environments. You can't just have a button to say, 'Don't be more sensitive but do be more powerful' – he was like a baby lion in there."
Lee, rode to Kung Fu Panda music, and said Breezer was actually more relaxed than in his previous tests in Japan.
"I'm twice over the moon – I actually didn't care if I won a medal, that horse gave me his heart in there. He was braver than the team test, braver even than the individual test a few days ago.
"He still was nervous in there and we had a tiny little spook before I entered and I just half halted to say, 'Daddy's here' and just kind of said, 'Come on, we can do this'. Then halfway through the test I nearly started enjoying it and then I remembered I needed to get to the end before I enjoy it – he was amazing."
Paralympics dressage freestyle: bronze for Britain's Georgia Wilson
The results in this Paralympics dressage grade exactly mimicked the individual test earlier in the Games – Lee Pearson secured gold, Austria's former event rider Pepo Puch on Sailor's Blue scored silver with a percentage of 81.007%, and Team GB's Georgia Wilson landed bronze on Sakura with 76.754%. Georgia is also trained by team-mate Sophie Wells.

"I used to compete on my little 14.2hh New Forest pony when Sophie was on (Rio medallist) Valerius and Lee was on (triple gold Paralympic medal winner) Blue Circle Boy and I was tiny – to be here with them, I just can't explain what it's like," said Georgia.
"I couldn't do it without Sophie. She calms me down a lot and the training is just invaluable. To be on the podium with Lee and have an incredible athlete like him in my grade, it's so special.
"I just can't thank everybody enough for their help and all the team around us and the people that play National Lottery (which funds the World Class programme)."
Georgia was called up from the reserve bench to ride at these Games with her own and her parents Geoff and Julia's chestnut mare Sakura, who is just seven years old, and the pair put in a very polished and precise test.
She said: "So it hasn't been very long and she's the kindest mare ever. I could take her anywhere. She could probably come into a hotel and sleep next to me."
Team GB equestrians will go home with a sensational eight Olympic medals. Three gold for Lee Pearson, two bronze and a gold for Georgia Wilson and gold and silver for Sophie Wells.
NAME: Sophie Wells
AGE: 31
HORSE: C Fatal Attraction
COMPETITION GRADE: 5

GREATEST ACHIEVEMENT: Triple Gold at the World Equestrian Games in Tryon in 2018, Paralympic Games in London 2012- Team Gold and Individual & Freestyle Silver, 2016 Paralympic Games in Rio Individual and Team Gold and Freestyle Silver.
FEI RANKING: 7th
C FATAL ATTRACTION
Stable name: Jorge
Details: Dark brown gelding
Height: 16.1hh
Age: 14yrs
Breeding: Fidertanz x Olivi
Breeder: E. E. Brandon (NED)
Owner: Charlotte Hogg
Travelling grooms: Liz Walsh and Jade Lockwood
NAME: Natasha Baker
AGE: 31
HORSE: Keystone Dawn Chorus
COMPETITION GRADE: 3

GREATEST ACHIEVEMENT: 6th in the World Championships 2016
FEI RANKING: 16th
KEYSTONE DAWN CHORUS
Stable name: Lottie
Details: Bay mare
Height: 16.1hh
Age: 10yrs
Breeding: s. Dimaggio
Breeder: S. Lavendera (GBR)
Owners: Joanna Jensen, Christian Landolt, P. Baker and Natasha Baker
Travelling grooms: Liz Walsh and Jade Lockwood
NAME: Sir Lee Pearson
AGE: 47
HORSE: Breezer
COMPETITION GRADE: 2
GREATEST ACHIEVEMENT: Triple Title at the 2000 Sydney Paralympics, 2004 Athens Paralympics and 2008 Beijing Paralympics
FEI RANKING: 24th
BREEZER
Details: Bay gelding
Height: 16.1hh
Age: 9yrs
Breeding: s. Barcardi
Breeder: Lee Pearson (GBR)
Owner: Lee Pearson
Travelling grooms: Liz Walsh and Jade Lockwood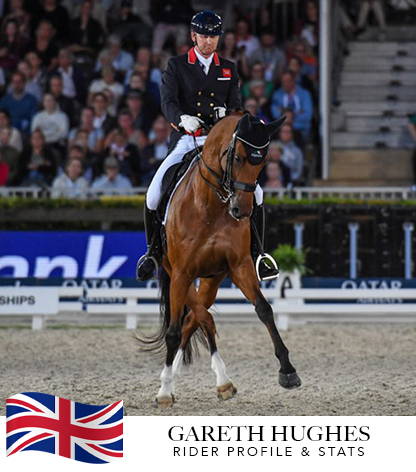 NAME: Georgia Wilson
AGE: 25
HORSE: Sakura
COMPETITION GRADE: 2

GREATEST ACHIEVEMENT: Team and individual Silver, Freestyle Gold at the 2019 FEI Para Dressage European Championships
FEI RANKING: 21st
SAKURA
Stable name: Suki
Details: Chestnut mare
Height: 16hh
Age: 7yrs
Breeder: G. Eilberg (GBR)
Owners: Geoff, Julie and Georgia Wilson
Travelling grooms: Liz Walsh and Jade Lockwood
When are the Paralympics 2020/21?
The Paralympics will run Tuesday 24th August to Sunday 5th September 2021 in Tokyo.
Who will represent Team GB's equestrian team at the Paralympics?
Sophie Wells MBE

Sir Lee Pearson CBE

Natasha Baker MBE

Georgia Wilson

When are the equestrian events at the Paralympics taking place?
The first equestrian event will be held on the 26th of August, starting with the Individual tests for Grade 2, 4 and 5. They will run until the 30th of August 2021.
What is the schedule for the equestrian events at the Paralympics?
26th of August 2021 7:55- 15:33 - Individual Test - Grade 2, 4 and 5
27th of August 2021 7:55- 14:48 - Individual Test - Grade 1 and 3
28th of August 2021 8:55- 14:23 - Team Test to Music Day 4
29th of August 2021 9:55- 12:48 - Team Test to Music Day 5
30th of August 2021 7:55- 15:18 - Individual Freestyle Test - Grade 4,5,3,2 and 1
When are the next summer Paralympics?
In 2024, hosted in Paris, France.
What channel can I watch equestrian events at the Paralympics on?
This will vary depending upon the country you live in. BBC will offer coverage to the UK, NBC will offer coverage to the USA and Eurosport will offer coverage to Europe. Remember to take into account that the events will be held at Tokyo local time, which is Japanese Standard Time.
Where will the equestrian events of the Olympics be held?
The events for each discipline will take place at JRA Equestrian Park, Tokyo. The park occupies an area of 180,000 square meters, including stables, indoor and outdoor arenas, an equestrian competition field, and office buildings.
How do you qualify for the equestrian teams in the Olympics?
The selection process for each discipline varies slightly, but is dependant upon the rider performance in top competitions and their FEI ranking. For Team GB, the final team and reserves will be selected and observed by a coach. Horses must have at least one named owner from the country they are competing for to qualify.