Ever wondered what Ellen Whitaker eats for breakfast? How she got into show jumping? Or what her biggest achievement is? Earlier this year AD caught up with Ellen in Cadiz, Spain to ask her 50 quick fire questions - catch the video & interview below.
1. How are you today?
I'm good, thank you.
2. Beautiful place- where are we?
Sunshine Tour in Cadiz.
3. You travelled all the way from the UK with your horses - how long does it take them to get here?
In the truck it takes about 3 days with the stoppages and everything.
4. Did they fly or drive to get here?
Drive.
5. So getting into it, what's your favourite show you've competed at?
Spruce Meadows, Calgary
7. Biggest show you've competed at?
European Championships in Mannheim.
7. You've had many huge achievements over the years, what's been your biggest?
Probably a bronze medal in Manheim at the Europeans.
8. What is one thing people don't know about your career?
It's been quite tough.
9.Tell me three things you can't live without?
My mum, my children and my horses.
10. Your all time best horse?
Locarno 62.
11. Do you still have him / her?
Yes! He's retired at home, breeding.
12. How many horses do you have competing at the moment?
Seven that I have myself, and then three or four with other riders.
13. What are their names?
Winston, Jack, Jay, Cindy, Cash, Emily and Angelina.
14. Who's the best looking?
I couldn't choose… Winston
15. How old were you when you started riding?
I was riding before I could walk! I can't even remember [I was] a baby.
16. And competing?
My first affiliated competition was when I was 5.
17. Did you compete ponies?
Yes.
18. Have you always show jumped or have you tried different disciplines?

I always used to fancy having a go at eventing, but I would never take it up. I would just lose interest in it- it's always been Showjumping for me.
19. What's the best part about being a show jumper?

Winning.
20. And the worst?
Losing.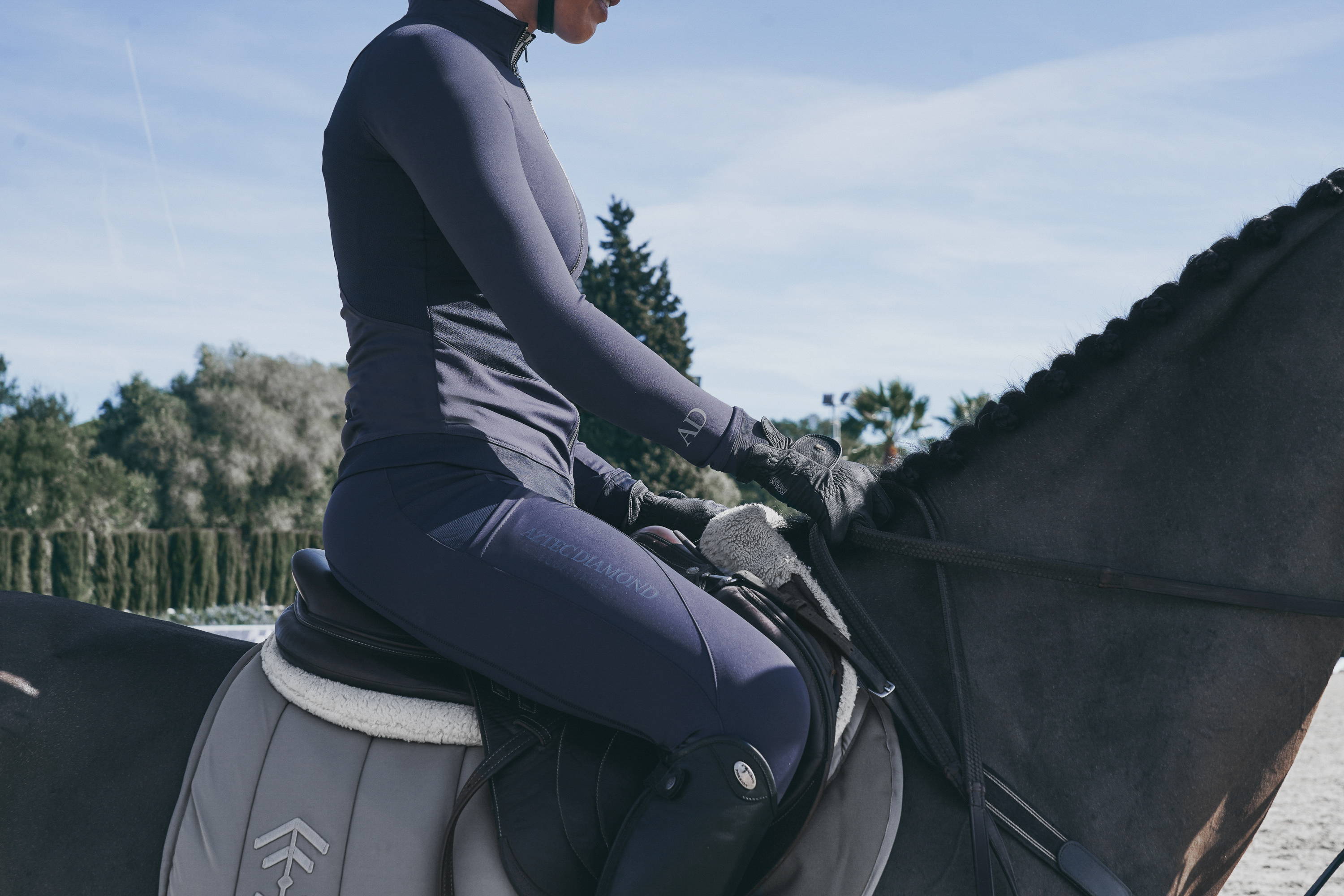 21. Do you travel much for your job?
Yeah, we travel a lot- we're always on the road.
22. Is that difficult?
It can be, yeah.
23. You have two beautiful children?
Yeah, two little boys.
24. is it a difficult job to work around with them?
It was in the beginning, when it's all new and challenging. It's always hard to get your head around but we just get on with it now and it works well.
25. Do they ride?
Yeah, they both ride.
26. How would you describe your style?
Classic.
27. Describe Aztec Diamond in 3 words?
Comfortable, practical and stylish.
28. Ok, riding questions. Is flatwork important for jumping?
Yes!
29. Oxers or verticals?
Oxers.
30. Combination or distance?
Combination.
31. Brown or black tack?
Black.
32. What are your colours?
Navy and white- I like quite classic colours.
33. Tricky one - bays or greys?
Bays!
34. What's the best thing you've learnt over the years?
Strength.
35. White or Beige Breeches for competing?
White!
36. What's your biggest dream for 2020?
I'd like to do well on the Global Champions Tour. I want to build my string of horses up a little bit and just do the best I can. [I want to] Climb the rankings.
37. Give me three traits your perfect horse would have?
Brave, careful and scopey.
38. And the three worst traits?
Difficult, nappy and strong.
39. If you could live anywhere in the world, where would it be?
England!
40. One last meal, what are you having?
Sushi.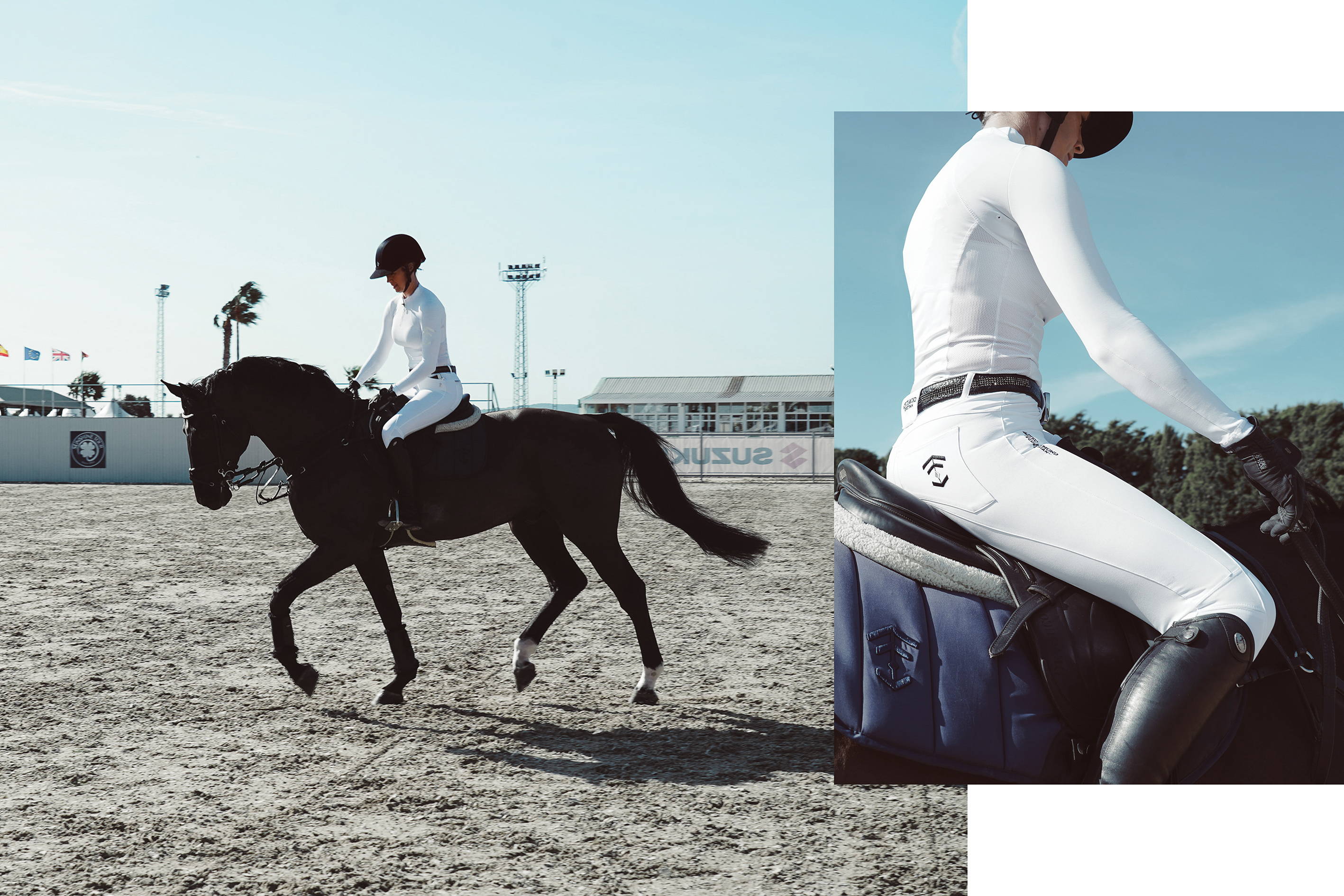 41. Is fitness and nutrition important to stay on top of your game?
Yes!
42. Go to breakfast for a competition day?
Avocado on gluten free toast with a poached egg.
43. Are you a beach or city girl?
Neither, [I'm a] country girl.
44. Who is your biggest inspiration?
My Mum!
45. What's the biggest lesson you've been taught?
I've been taught a lot of lessons, which the biggest one is- I'm not sure. I think they're all relevant.
46. And who's your biggest fan?
My kids.
47. Favourite product from AD?
The base layers
48. What's your biggest fear?
Flying.
49. What's your favourite thing to do?
Spend time with my children.
50. And finally, how long are you here with this show?
6 weeks.